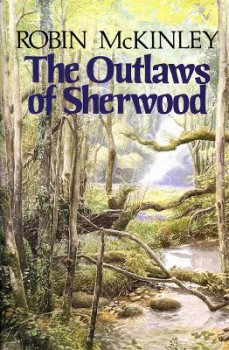 Robin McKinley's The Outlaws of Sherwood is yet another fine reading experience that Ace has just released in a very fine trade paper edition with stunning new artwork. First printed in hardcover by Greenwillow Books in 1984, this is still one of the better takes on the Robin Hood mythos. Robin Longbow is a lowly, utterly poor forester in Sherwood Forest, not quite making a living, unable to afford the taxes on the holdings his now dead father left him, and quite unable to keep his temper in check when he is confronted by the taunts of the Chief Forester's favorite. One shot goes astray, and he has in the eyes of the Sheriff of Nottingham murdered the man. From then on, Robin is on the run deep into the woods, but he is not alone. Joined first by his friends Much and Marian — whose father disapproves of her friendship with Robin — and then by more and more folks who despise the Norman lords who tax them far beyond their ability to pay, Robin builds a rag-tag group of Saxon outlaws deep in Sherwood, who risk the gallows for opposing the Sheriff and his Norman overlords.
In tone, it reminds me of the 1991 film that featured Patrick Bergin as Robin and Uma Thurman as Maid Marian. Both use the motif of ruthless Norman invaders oppressing the Saxons, who are the 'true British.'  And both turn the concept of a joyful Robin on its head. As I hinted before, I consider the Howard Pyle version of the Robin Hood tale to be one of the worst done. Almost everything done since Pyle has been better than what he did.
One of most interesting characters in this book is one added to the canon by McKinley herself: Cecily of Norwell, Will Scarlet's little sister, who does not appear in the Robin Hood mythos. Cecil, as she comes to be named by all who encounter 'him,' runs away from home to avoid the prospect of marriage to an aging and not-terribly-pleasant Norman lord. She disguises herself as a boy and proves herself an excellent archer to join Robin's band of rogues. Every character here, good or not, is fleshed out rather well, and everyone acts true to the times. So you've got good characters, interesting plotting, and a superbly thought-out background. What more could you want? This is an original telling of what far too often becomes a boring retelling of the Robin Hood legend. Good stuff indeed!
(Ace, 2005)